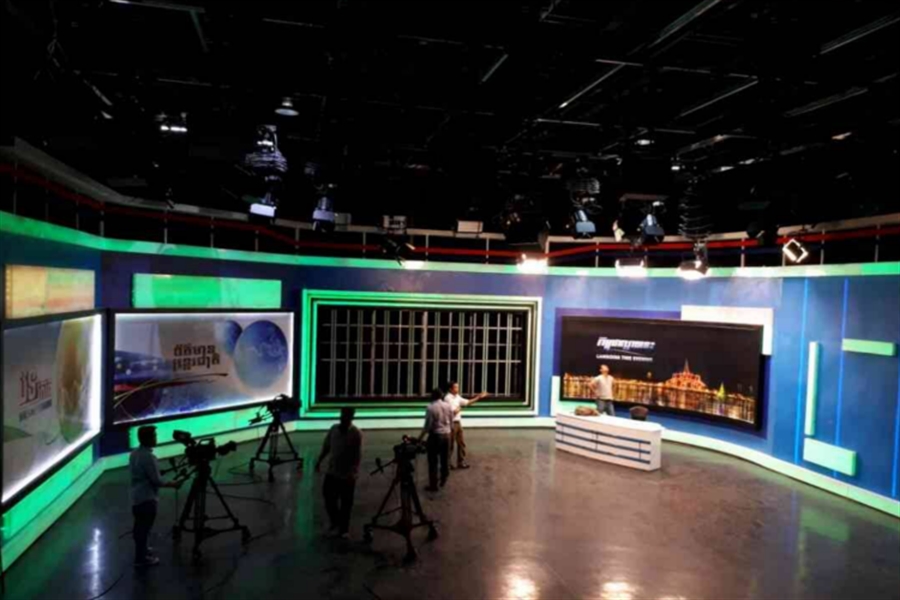 ---
About Project
On 2015, the PNN Studio TV was equipped with a new lighting systems: Cosmolight, Quartzcolor and IFF were the brands used for this huge project in Cambodia.
PNN channel is a new channel which is a part of investments from LYP Group and today it has the biggest studio and using most modern equipment and advanced production techniques.
To upgrade the entire lighting system, it was decided to install 20 Brivido 455, 30 Brivido 655, 16 Brivido 855 (Cosmolight), 14 Studio LED X4, 25 Studio LED X5, 30 Studio LED X6 (Quartzcolor), 60 DUO Pantographs and 53 Acta20 (IFF).
The Brivido Series is a COSMOLIGHT product range and it is the ideal solution for fill light, providing bright, soft and even light distribution. Additionally, this is an extensive and high-performance fluorescent fixtures range that are designed to meet TV studios, chroma key, and digital photography lighting requirements. Brivido 455 is the medium-sized fluorescent of this range of products that it is idyllic for medium and small studios while Brivido 655 is ideal for medium-large studios. Brivido 855 is the most powerful fluorescent of the BRIVIDO Series and it used for large studios.
The Studio LED X Series range combines the matchless features of the renowned QUARTZCOLOR Fresnel spotlights with the advantages of the LED technology innovation. It is a high performing professional LED Fresnel spotlight range whose light output is equivalent to a traditional halogen source and permits a one-for-one replacement without compromises in the quality of the light: same brightness, same smoothness, same even and shadow less illumination as a traditional Fresnel spotlight.
The Pantograph D.U.O. is a versatile suspension unit for small, medium and large studios. The specially designed double scissors mechanism adds extra stability and is furnished with cable clips to support luminaire power cables.
Acta20 is a Self-Climbing lighting hoist with onboard motor self-climbing hoist to raise and lower lighting fixtures and it provides an easy and fast access to install and service studio lighting fixtures. The versatility and ease of installation and use make the IFF self-climbing hoists the ideal solution for high lighting grids and frequent set changes in television studios that require a quick and easy change of lighting sets.
---