IBC 2023 IS OVER!
We're back from Amsterdam!
In: Exhibitions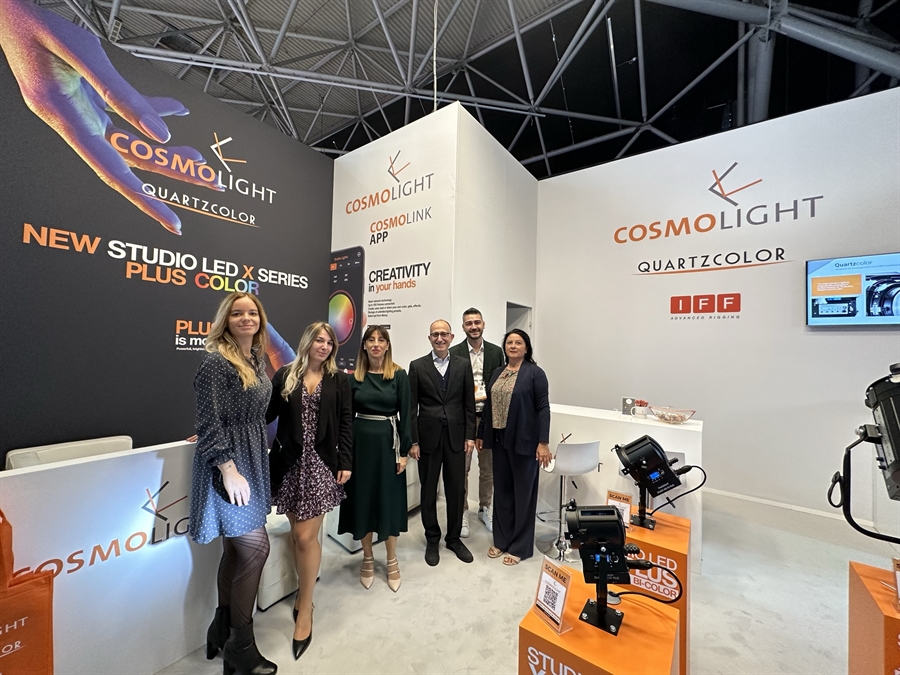 Another IBC edition came to an end and we want to say thank you to all the people that spent time to pass by to our booth! It was an exciting edition, full of friendly meeting with our clients, italian aperitifs and chats with new friends! We can't wait to meet you all the next year!
IBC is always a great opportunity we have to show our products and to meet new potential clients, this year we showed our third generation of studio led series plus with updated features, together with the ACTA20 and our INFINITY panels. The fresnels you had the chance to try at our booth were improved with a new hardware. In particular we added:
- PWM ranging from 1 khz to 25khz, fully configurable, both from display and DMX;
- an accelerometer that gives you information about the degrees of the tilt (to help you during maintenaince or to adjust fresnels at the same position);
- The Cosmolink APP allows you to configure your studio, create your lighting groups and share them with other collaborators (it always saves your last configuration in the cloud) ;
- You can manage the fresnel via DMX Wi-Fi (lumenradio), through ArtNet or SACN protocols (OPTIONAL),
- We Introduce the effects management (Candle, TV, Thunder, Strobo, Neon Progress, Paparazzi, Fireworks, Random, Party and Pulse), fully configurable from both display and DMX;
- You can now monitor the power output on the LED, the hours of use and the number of turn-ons;
and much more to discover...
We brought to the exhibition some of our "best of"( STUDIO LED X1 PLUS BI- COLOR , STUDIO LED X2 PLUS BI- COLOR , STUDIO LED X4 PLUS COLOR, STUDIO LED X6 PLUS BI- COLOR , INFINITY 100 BI-COLOR, INFINITY 200 COLOR and ACTA20) but we have a wide range to meet the needs of every client, from the smallest studio to the biggest!
Our wide range of lighting fixtures is waiting for you at the next event!
---