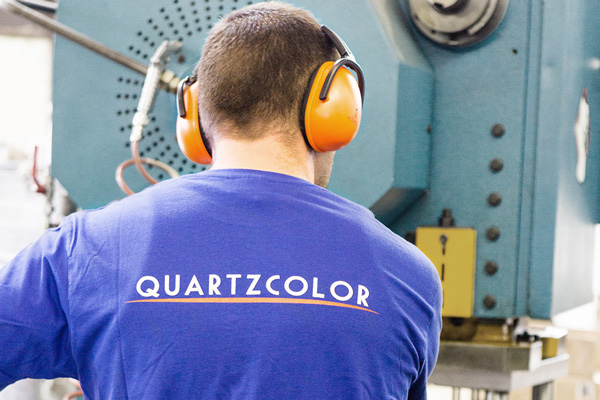 Since 1954, QUARTZCOLOR is a global brand dedicated to designing and manufacturing high-performance, reliable, durable, and low-maintenance professional lighting fixtures .
The variety of its range of LED and Tungsten Fresnel, Softlights, Fill & Cyclorama lighting guarantees diverse solutions for almost any lighting application, especially TV studios, virtual sets, theatres and film sets.
Making the most of a long history and expertise, QUARTZCOLOR offers an extensive and competitive range built to the highest standards of light output and efficiency.

As always, QUARTZCOLOR lighting fixtures feature robust construction, superior optical performance, and a quick maintenance design.
The perfect choice for professional rental, stage and studio applications and technicians.
Quality and Reliability over time
Only top quality components and special high-temperature treatments to deliver high-quality, rugged, long-lasting lighting fixtures that will perform for years.
Time and cost savings
Easy to service and maintain based on fast service access. Interchangeable accessories and spare parts reduce the need to stock many specific accessories for each product.
Pre&Aftersales
A worldwide network of local distributors and project partners provides project management and full technical support. A comprehensive stock of spares whenever they are needed.
Experience and Expertise
Experienced and high skilled people carry out the whole production process from design, through assembly, testing, and packing. Dedicated people who have contributed to QUARTZCOLOR success are still part of it today.
Safety
All QUARTZCOLOR products are realized in full compliance with international labour standards and in accordance with the most severe safety regulations.
---
QUARTZCOLOR

Brand
Founded in Italy in 1954, Quartzcolor is a world-renowned brand dedicated to designing and manufacturing professional lighting fixtures for TV Studio, Location and broadcast.
Designed and manufactured in Italy and built to meet the demanding needs of lighting professionals worldwide, QUARTZCOLOR boasts a strong presence and reputation in global markets based on pioneering famous product innovations that have become a standard and a reference within the lighting industry.
Cosmolight acquired Quartzcolor in 2012.
COSMOLIGHT

Company
Cosmolight was originally founded in 1974 as a sole-proprietor film lighting business in Rome for the Italian market and it has grown over the last 40 years.
The year 2012 represents a turning point in Cosmolight's constant development path thanks to the acquisition of QUARTZCOLOR and IFF, the world-renowned brands for professional lighting fixtures and lighting suspensions.
Today, Cosmolight is an international company whose operations span the globe offering combined lighting and customized suspension systems for TV studios, video productions, stage and architectural applications worldwide.

Learn more
---
History Timeline

1940s

Giovanni and Antonio Ianiro run a small metalworking workshop where they fix and service luminaires for the film industry, near the Cinecittà studios in Rome.

Giovanni, Antonio Ianiro found IANIRO Srl with the aim to manufacture luminaires for the film industry. Hollywood major productions are among their main customers.

IANIRO moves into a new manufacturing building and introduces Polaris, Castor, Pollux, and Vega, its first Fresnel series up to 10000W.

In 1973, Antonio and Giovanni Ianiro change the name of the company to Quartz Color Ianiro Spa.
Following the introduction of the halogen lamps in the television and film production industry, Quartz Color Ianiro creates the Redhead and Blonde, that will become a standard and a reference in the lighting industry.
At Photokina 1974, Quartz Color laniro presents Sirio, the first-of-its-kind HMI Fresnel projector.

In 1986, Rank Strand purchases Quartz Color Ianiro Spa that becomes Strand Lighting Italia Srl. Rank Strand keeps QuartzColor as a brand name and begins distributing QuartzColor lighting fixtures in North America.

In 1999, QuartzColor renews the HMI DAYLIGHT FRESNEL, PAR DAYLIGHT FRESNEL, STUDIO, and BAMBINO series.

In 2004, Quartzcolor lights up in red the Tour Eiffel in celebration of the Chinese president's visit to France.

In 2007, Fokia Group acquires QuartzColor brand and changes the lettering of the logo to QUARTZCOLOR.

In 2012, COSMOLIGHT acquires QUARTZCOLOR with the end to revamp a historic brand and finally reconnect it with its customers all over the world.
QUARTZCOLOR introduces a new LED Fresnel spotlight range, the STUDIO LED X SERIES.